Pro Pickleball Clinics At Nationals
June 28, 2021
Heading to Nationals?
WANT TO TUNE-UP AND REFINE YOUR GAME?
If you're heading to Red Deer and always wanted to attend a clinic with a Pickleball Pro, you're in luck.
We are pleased to present CHARLES NEUFELDT & KARINA MICHAUD Pickleball Clinics before and after Nationals in Red Deer! See more information below as well as the links to sign up.
TOURNAMENT PREP WITH PICKLEBALL PROS
CHARLES NEUFELDT & KARINA MICHAUD Tournament Prep – 2021 Pickleball Nationals, Sign Up HERE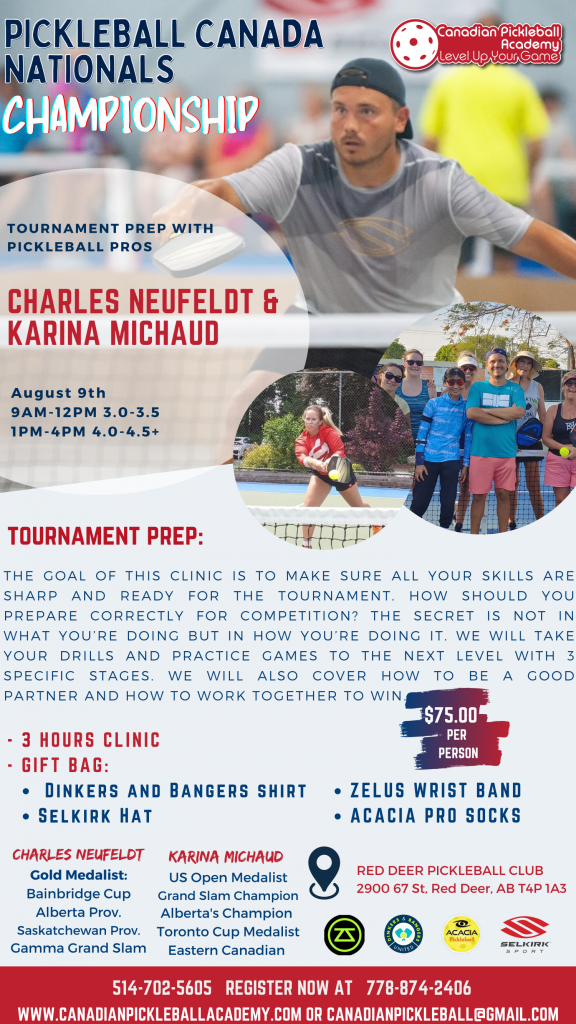 Join Charles Neufeldt & Karina Michaud in this 3-hour tournament prep session at the Canadian National Pickleball Championships.
Canadian Nationals Pickleball Tournament Prep (Aug 9th)
Canadian Nationals Pickleball Clinic (Aug 16th-17th)
Join Charles Neufeldt & Karina Michaud in this two-day 6 Hour Clinic at the Canadian National Pickleball Championships. Sign Up Here